Automate Operations and Increase Productivity
Astro is a solu­tion aimed at trans­form­ing how we auto­mate and oper­ate on the floor in mis­sion crit­i­cal sit­u­a­tions.
The Challenge: Automation with complete interoperability and data integration
Dis­rup­tive indus­tri­al trends around "dig­i­tal labor", includ­ing smart sen­sors and devices, con­nect­ed machi­nes, intel­li­gent assis­tants, drones, AGVs, and robots, are redefin­ing the work­flow of tomor­row. Today more than ever busi­ness own­ers must look to adopt intel­li­gent solu­tions before the com­pe­ti­tion takes over. Data inte­gra­tion and sys­tem inter­op­er­abil­i­ty is the first chal­lenge.
There are a lot of sys­tems and machi­nes pro­duc­ing data, but very few ways to exchange and store infor­ma­tion in the stan­dard­ized
way required for adop­tion of IoT solu­tions at scale. Data silos found in IT, oper­a­tions and the envi­ron­ment make the cre­ation
of inter­op­er­a­ble sys­tems a com­plex process. Astro is a smart indus­tri­al solu­tion dri­ven by cross-cor­re­lat­ed data deci­sions and
con­nect­ed prod­ucts with the abil­i­ty to make auto­mat­ed deci­sions and take actions in real-time. Mak­ing machi­nes intel­li­gent
and aug­ment­ing man­u­al work pro­duces oper­a­tional effi­cien­cies and increas­es pro­duc­tiv­i­ty gains that make a dif­fer­ence.
The Solution: Astro – Efficient. Intelligent. Results Driven.
Inno­va­tions in hard­ware, soft­ware, edge com­put­ing, con­nec­tiv­i­ty, big data, ana­lyt­ics, and machine learn­ing con­verge to cre­ate Astro. Dig­i­tal Labor – robots, drones, carts, assis­tants and more — can be remote­ly oper­at­ed and stream video, gath­er sen­sor data, do sur­veil­lance, and com­plete com­plex tasks using object recog­ni­tion, obsta­cle avoid­ance, and sophis­ti­cat­ed rout­ing and wayfind­ing.
In addi­tion, lega­cy sys­tems and machi­nes can be out­fit­ted with sen­sors and RFID to enable smarter pro­duc­tion, work­flows and process.
Lever­ag­ing Edysen, Astro pro­duces a local­ized secure net­work with or with­out Wi-Fi in order to give you the infor­ma­tion and agili­ty to cap­i­tal­ize on cus­tomer demand and needs. Pow­er­ful mobil­i­ty tools empow­er work­ers, boost­ing pro­duc­tiv­i­ty in every inch of the ware­house, plant, hos­pi­tal or build­ing. Astro cap­tures, ver­i­fies and mobi­lizes the data you need to more accu­rate­ly fill inter­nal and exter­nal cus­tomer orders from inven­to­ry, see what you have and sub­se­quent­ly route where it needs to go in real-time. Deep data inte­gra­tion also enables enhanced safe­ty and increased qual­i­ty of oper­a­tions.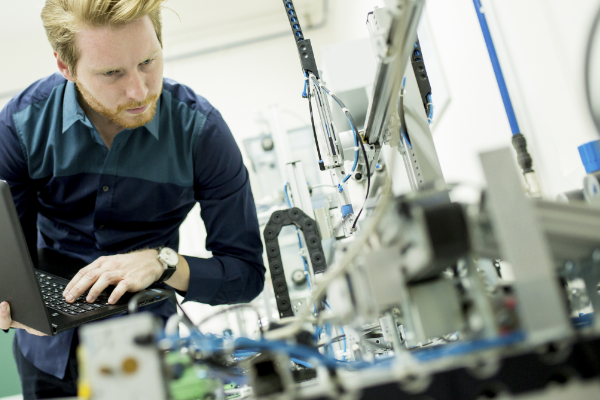 BENEFITS
Route "Dig­i­tal Labor" autonomous­ly
Opti­mize asset uti­liza­tion
Reduce oper­a­tional cost
Improve work­er pro­duc­tiv­i­ty
Enhance work­er safe­ty
Cre­ate new rev­enue streams through
new prod­ucts and ser­vices
Improve sus­tain­abil­i­ty
Enhance cus­tomer expe­ri­ence

Down­load the Astro Datasheet PDF
What can I do with Astro?