Smart Mesh Networking Enables Custom Applications to Run at the Edge and Deliver the Most Interactive Experience in the Industry
Local­ized secure net­works inter­act local­ly with or with­out inter­net to enable indoor and out­door 1:1 com­mu­ni­ca­tions at scale.
The Challenge: Personalized experiences and communications at scale
Many busi­ness own­ers are look­ing to cre­ate per­son­al­ized expe­ri­ences, but run into issues with Wi-Fi access, mobile apps
and per­haps most impor­tant­ly lag time in try­ing to com­pute data fast when it needs to send every­thing back to the cloud for
pro­cess­ing. The prob­lem with this strat­e­gy is that work­ing in a phys­i­cal space and not just dig­i­tal, requires instant pro­cess­ing
to deliv­er cus­tomized expe­ri­ences and opti­mal per­for­mance for resources and assets.
Oper­a­tional­ly it is impor­tant to have con­trol over and choose when to process data imme­di­ate­ly for action or when to send
large vol­umes of data over the net­work. Edysen enables you to build a cus­tomized strat­e­gy on when to ana­lyze data at the edge and when to send to the cloud. Edge pro­cess­ing cre­ates tremen­dous val­ue in IoT solu­tions as it helps to cor­re­late and ana­lyze data mak­ing access sim­pler and eas­ier to act upon.
The Solution: Edysen Smart Mesh Networking
Edysen is a smart mesh edge com­put­ing group of devices that cre­ate
local­ized secure net­works. Man­ag­ing and inter­act­ing with local­ly installed
IoT hard­ware, Edysen lever­ages the pow­er of Sirqul's cloud offer­ing
to cre­ate remote oper­a­tion, trig­ger­able alerts, and Over-the-Air
(OTA) updates.
Sirqul's Edysen devices with patent­ed mesh tech­nol­o­gy "Play­field"
enables any build­ing or out­door space to instant­ly tri­an­gu­late staff
or guests pro­vid­ing heatmaps, dwell times, floor plan opti­miza­tion,
turn-by-turn nav­i­ga­tion, push cus­tomized con­tent, media, deals or
alerts, auto­mate the envi­ron­ment, provide Wi-Fi access, and send
cam­paigns based on geofenced trig­gers.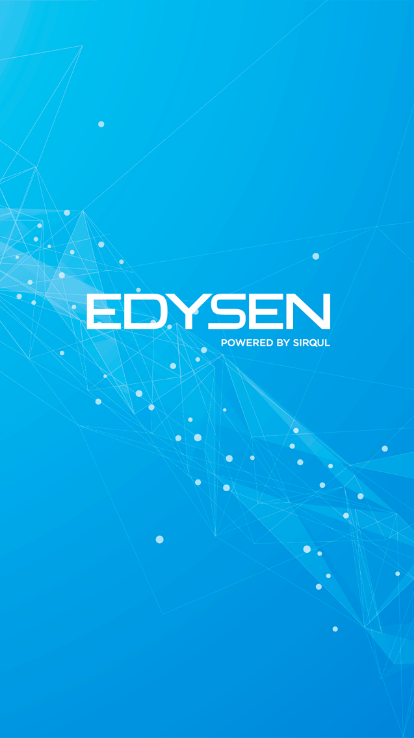 Edysen Smart Device Features
As a next-gen­er­a­tion set of devices that can be added to a new build­ing or eas­i­ly retro­fitted, Edysen sup­ports cross-pro­to­col trans­la­tion: WiFi, Blue­tooth, BLE, RFID, NFC, Zig­bee, 3G/4G and more. Imple­men­ta­tions range from autonomous robot­ics to park­ing to retail to sta­di­ums to air­ports to hotels to com­mu­ni­ties and more.
Edysen is a com­bi­na­tion of hard­ware and soft­ware and is white-label ready for hard­ware man­u­fac­tur­ers or indus­try brands look­ing to com­plete their solu­tion offer­ing. Brands can sim­ply apply their name and build on top of the plat­form. And hard­ware man­u­fac­tur­ers can cre­ate intel­li­gent prod­ucts with "Pro­duct-as-a-Ser­vice" busi­ness mod­els in order to offer cus­tomized expe­ri­ences and reoc­cur­ring rev­enue streams.
Wear­able inte­gra­tion
Peo­ple find­er "Where is…"
Indoor positioning/wayfinding
Real-time alerts and track­ing
Voice Con­trol (Alexa, Google Home, Apple Home­K­it)
Remote Access
Applet Mar­ket­place

Down­load the Edysen Datasheet PDF
Edysen Device Specifications
Edysen Cube
Android OS firmware: 6.0 Marsh­mal­low
Rockchip RK3229
MCP-1GB LPDDR3 + 8GB eMMC
IEEE 802.11 b/g/n and BT4.1 (BR/EDR + BLE)
Authen­ti­ca­tion Coproces­sor
Pow­er man­age­ment IC devices
USB to AC adapter, USB to Bat­tery pack
N/A
Mon­i­tor­ing mode for pas­sive Wi-Fi track­ing
2"W x 1.875"H x 1.75" D
(53 x 47 x 45mm)
Edysen Retrofit Light Socket
Android OS firmware: 6.0 Marsh­mal­low
Rockchip RK3229
MCP-1GB LPDDR3 + 8GB eMMC
IEEE 802.11 b/g/n and BT4.1 (BR/EDR + BLE)
Authen­ti­ca­tion Coproces­sor
Pow­er man­age­ment IC devices
Edis­on 26/27 bulb base
Incan­des­cent, Halo­gens, LEDs and CFLs
Mon­i­tor­ing mode for pas­sive Wi-Fi track­ing
2.25"W x 3.4"H
(57 x 86mm)
Edysen Connected Car OBD II
Android OS
ARM Cor­tex Dual Core A7 1.2
DDR3L: 4GB
eMMC NAND Flash 8GB
LTE Cat 3
CDMA
Solutions/STN1110
Realtek/ALC5645
Line in/Line out
Kingstate/KDSG28008C-10
350m A3.7V
How the Edysen Smart Mesh Network works
1. SET-UP: Sirqul's sim­u­la­tor deter­mi­nes num­ber of devices and loca­tions based on obsta­cles, lay­out, and high con­gest­ed areas. The strate­gic place­ment of the Edysen devices cre­ate over­lap­ping con­cen­tric cir­cles to pro­duce an accu­rate loca­tion down to the foot. Each device can daisy chain com­mu­ni­ca­tions with near­by devices and oth­er IoT enabled devices
like smart TVs, smart­phones, tablets, con­nect­ed cars,
wear­ables and dig­i­tal dis­plays.
2. ANALYZE: The Edysen device runs an appli­ca­tion with Android com­put­ing capa­bil­i­ty at the edge and in the cloud. This enables faster pro­cess­ing of ana­lyt­ics in a loca­tion
aware con­text for max­i­mum ben­e­fit.
3. ACTIONABLE INTELLIGENCE: Real-time actions are
pre­dict­ed and pre­scribed lever­ag­ing patent­ed smart mesh
tech­nol­o­gy, APIs and dash­board tem­plates. Edysen enables actions such as wayfind­ing, loca­tion con­text, machine learn­ing, geofenc­ing, alerts and trig­gers, rewards, rec­om­men­da­tions, per­son­al­ized con­tent, heatmaps, pro­duct place­ment
opti­miza­tion and turn by turn direc­tions.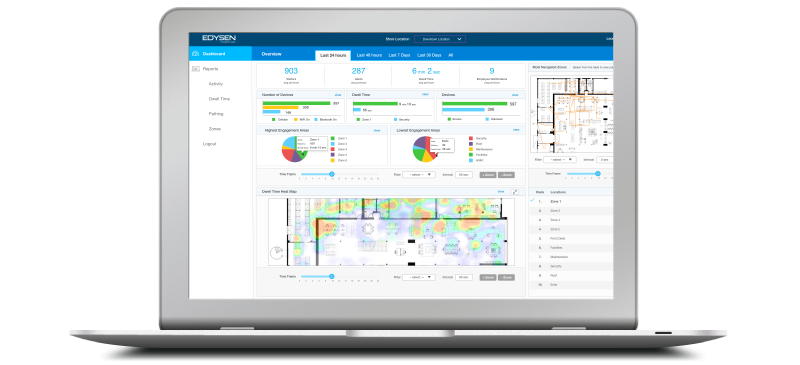 Hardware Ready or Bring Your Own Device
Android OS firmware sup­port: 5.0 Lol­lipop — 6.0 Marsh­mal­low
CPU: CPU, Quad Cor­tex A7, 1.094 GHz, 504 NSP
Mem­o­ry (eMCP): eMM­C_8GB + LPDDR2_1GB
WiFi/BT: IEEE 802.11 b/g/n and BT4.1 (BR/EDR + BLE)
MFI IC: Authen­ti­ca­tion Coproces­sor
PMIC: Pow­er man­age­ment IC devices
HYPER-LOCAL TARGETING
Rout­ing and logis­tics of robot­ics, assets and peo­ple
Live heatmaps for foot­falls and dwell time dis­play
cus­tomer & employ­ee traf­fic behav­ior
Track and ana­lyze resources, items and user behav­iors
Indoor/outdoor foot by foot posi­tion­ing pro­vides
turn-by-turn direc­tions, heatmaps and meet-ups
to prod­ucts and peo­ple
ANALYTICS AND FLOOR OPTIMIZATION
Traf­fic (indoor con­ges­tion) detec­tion & avoid­ance
Smart park­ing solu­tions
Pro­duct place­ment and floor­plan opti­miza­tion tools
Ana­lyt­ics visu­al­iza­tion & report­ing (cus­tom queries
by cus­tomer, demo­graph­ic, inven­to­ry, loca­tion)
Sim­u­la­tion man­age­ment solu­tions (cus­tomers,
employ­ees, resources)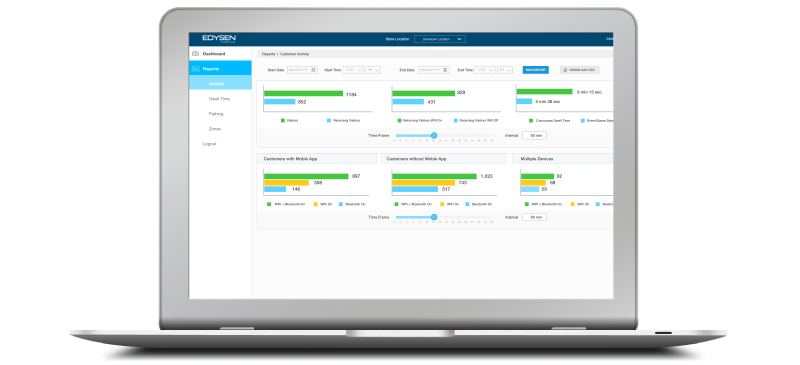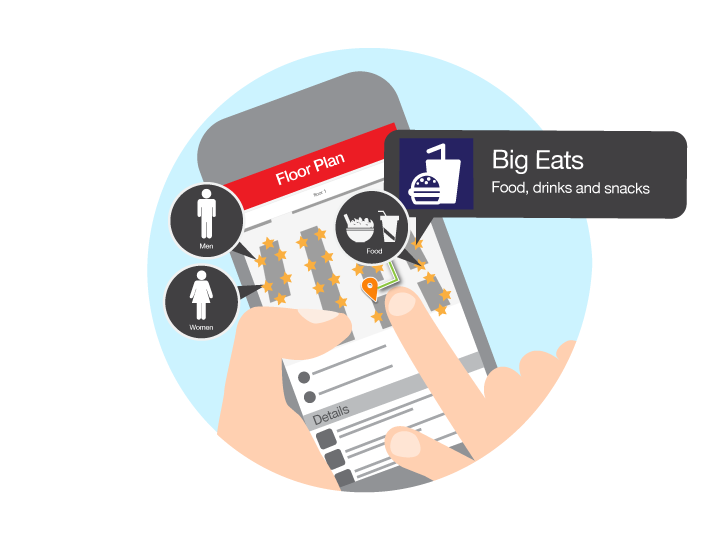 SIMPLE & EASY INTEGRATION
Inter­act and man­age local­ly installed IoT hard­ware, machi­nes, devices and sen­sors
Inven­to­ry inte­gra­tion with exist­ing POS sys­tems,
bea­cons & RFID read­ers to enable check­out, reduce
loss­es and max­i­mize pro­duct place­ment
Inte­gra­tion with a wide range of new and exist­ing
IoT devices via OTA app deploy­ment
Lever­age exist­ing con­nect­ed dash­boards (POS & ERP Soft­ware inte­gra­tion) that inte­grate into your exist­ing sys­tem
CUSTOMER ENGAGEMENT
Trig­ger inter­ac­tions based on prox­im­i­ty, geofence
alerts, user pref­er­ences and behav­iors
Pri­vate IM & group chat via Play­field™ Mesh Net­work
Shop­ping lists, loy­al­ty pro­grams and hooks for app devel­op­ers
Call sales staff or inter­act with online assis­tant to help dur­ing pro­duct con­sid­er­a­tion increas­ing pur­chas­ing
con­fi­dence and sat­is­fac­tion
What can I do with Edysen?