Altierre's wire­less Inter­net of Things (IoT) and ESL sys­tem and Sirqul's patent­ed Edysen loca­tion tech­nol­o­gy trans­form retail store expe­ri­ences
As seen in Busi­ness Wire
April 17, 2018 02:00 AM East­ern Day­light Time
SAN JOSE, Cal­if.–(BUSINESS WIRE)–Altier­re Corp and Sirqul today announced a strate­gic glob­al alliance at Retail World Con­gress in Madrid. The alliance brings togeth­er Altierre's lead­ing Inter­net of Things (IoT) plat­form and Elec­tron­ic Shelf Labels (ESL) with Sirqul's IoT plat­form and loca­tion-based Edysen tech­nol­o­gy to give retail­ers a smart, effi­cient solu­tion for locat­ing items and shop­pers in their stores.
"Rich immer­sive expe­ri­ences will make an imme­di­ate impact, turn­ing vis­i­tors into loy­al, repeat cus­tomers"
By com­bin­ing Altierre's wire­less in-store IoT plat­form and ESLs with Sirqul's patent­ed Edysen loca­tion intel­li­gence and IoT plat­form, retail­ers can now trans­form the in-store expe­ri­ence and make indi­vid­u­al­ized pro­mo­tion­al offers to shop­pers based on their exact indoor loca­tion, behav­ioral insight, and purchase/loyalty his­to­ry.
Sirqul's ground­break­ing tech­nol­o­gy enables Altier­re to deliv­er an Aug­ment­ed Real­i­ty (AR) appli­ca­tion. As a stand­alone solu­tion or native inside the retailer's loy­al­ty app, the nev­er seen before func­tion­al­i­ty allows shop­pers to pre­cise­ly locate speci­fic items in-store while pro­vid­ing rec­om­men­da­tions and pro­mo­tion­al offers. Retail­ers will also take advan­tage of the new AR app to enable asso­ciates to pick and pack prod­ucts for Buy Online and Pick­up in Store, Ship from Store, and Curb­side Deliv­ery.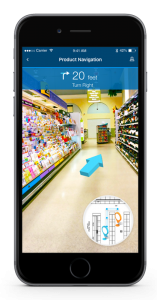 Sirqul's tech­nol­o­gy can mon­i­tor shop­pers' with or with­out an app to view paths in the store, under­stand dwell times, and provide heat maps of store traf­fic to opti­mize staffing, store lay­outs, and pro­duct loca­tions. Retail­ers are cur­rent­ly exper­i­ment­ing with exist­ing tech­nolo­gies to accom­plish the­se objec­tives, such as com­put­er vision and video ana­lyt­ics. Sirqul's solu­tion is less expen­sive and more effec­tive with a high­er degree of accu­ra­cy.
"Online retail­ers have had a com­pet­i­tive advan­tage over brick and mor­tar retail­ers for too long," said Rob Crane, Altierre's Exec­u­tive Vice Pres­i­dent, Glob­al Sales and Mar­ket­ing. "By under­stand­ing a shopper's loca­tion in the store, the loca­tion of items and fix­tures and ana­lyz­ing a shopper's pur­chase his­to­ry, we can deliv­er an appli­ca­tion which makes intel­li­gent rec­om­men­da­tions to shop­pers and then guides them around the store using AR, locat­ing and pro­mot­ing items indi­vid­u­al­ly to that shop­per. This part­ner­ship will dri­ve sig­nif­i­cant val­ue for retail­ers and the solu­tion is much greater than the sum of its parts, we're very excit­ed to debut this solu­tion at the World Retail Con­gress and demon­strate it to such an elite group of Glob­al Retail Lead­ers in Madrid."
Lever­ag­ing AI to ana­lyze shopper's traf­fic pat­terns will help retail­ers opti­mize their planogram. Mar­ry­ing this data with POS data will give retail­ers a gran­u­lar pic­ture of shop­per activ­i­ty, which they can lever­age to opti­mize planograms on a store-by-store basis.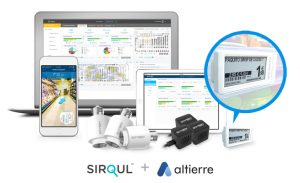 "Rich immer­sive expe­ri­ences will make an imme­di­ate impact, turn­ing vis­i­tors into loy­al, repeat cus­tomers," said Robert Fred­er­ick, CEO and Pres­i­dent at Sirqul. "Dig­i­tal trans­for­ma­tion in-store, with or with­out an app, can now deliv­er on its promise to engage both the cus­tomer and asso­ciate with inter­ac­tions that dri­ve store opti­miza­tion of floor­plans, cre­ate per­son­al­ized jour­neys, ana­lyze and pre­dict behav­ior, and ulti­mate­ly increase rev­enue."
Altier­re Corp. is the only future proof wire­less IoT sys­tem. The system's ultra-low ener­gy require­ment, bi-direc­tion­al mes­sag­ing and solu­tions suite provide brick-and-mor­tar retail­ers with the same agili­ty as online mer­chants to con­tin­u­ous­ly mon­i­tor, detect, flag and seize net prof­it oppor­tu­ni­ties across all areas of the busi­ness. Altierre's patent­ed sys­tem per­forms flaw­less­ly in any store envi­ron­ment regard­less of tem­per­a­ture extremes, line-of-sight bar­ri­ers or con­cur­rent chan­nel fre­quen­cy activ­i­ties. Incor­po­rat­ed in 2003, Altier­re is head­quar­tered in San Jose, Cal­if. For more infor­ma­tion, vis­it: www.altierre.com
Sirqul (www.sirqul.com) pro­vides an Engage­ment-as-a-Ser­vice IoT Plat­form with Smart Mesh net­work tech­nol­o­gy to dri­ve engage­ment, oper­a­tional effi­cien­cy rapid inno­va­tion and new rev­enue streams. At the foun­da­tion of Sirqul's plat­form are 75 Ser­vices, 350 APIs, 3 dis­tinct IoT hard­ware pro­duct offer­ings, and over 30 cus­tomiz­able native appli­ca­tion tem­plates for rapid deploy­ment on a build­ing block approach. Sirqul is – device, pro­to­col and cloud agnos­tic – fos­ter­ing an inter­op­er­a­ble sys­tem for build­ing future-proof solu­tions for retail, auto, cities, build­ings, indus­tri­al, enter­tain­ment, and more.